Is your team beginning to lose track of their tasks? Are you forgetting who you assigned to your new project? Did you just lose a very important post-it note?
If you have a growing team within your company, it could be a great idea to start using a company memo board. We would like to explain what memo boards are, their many benefits and how you can implement them into your project management strategy.
What is a 'company memo board'?
In the context of business, a company memo board, also known as a bulletin board, is a shared space or surface upon which managers and employees can post tasks, reminders or messages about their work. Kanban-style memo boards serve as excellent tools for communication as your team expands and your business requires substantial organisation.
Using a company memo board enables your team to prioritise their workload, assess their progress and review their administrative tasks such as answering emails or returning calls. This prevents your team from feeling overwhelmed and creates a structure within the operational side of the business.
Kanban boards
The term 'Kanban' (Japanese for 'sign' or 'billboard') refers to an inventory control framework that allows workers to track the development of a project. Kanban boards separate each stage of production into a series of checklists. This allows staff members to see what needs to be done, when their deadlines are and which worker has been assigned to each task.
How to use company memo boards for project management
In the office
If you would like to use a memo board in your office, you could consider using a traditional cork bulletin board a whiteboard or even a blackboard if you have adequate space. Kanban boards allow your employees to visualise their progress and keep track of their actions. Employees can collaborate with their peers and easily move actions from one category to the next until the task is complete.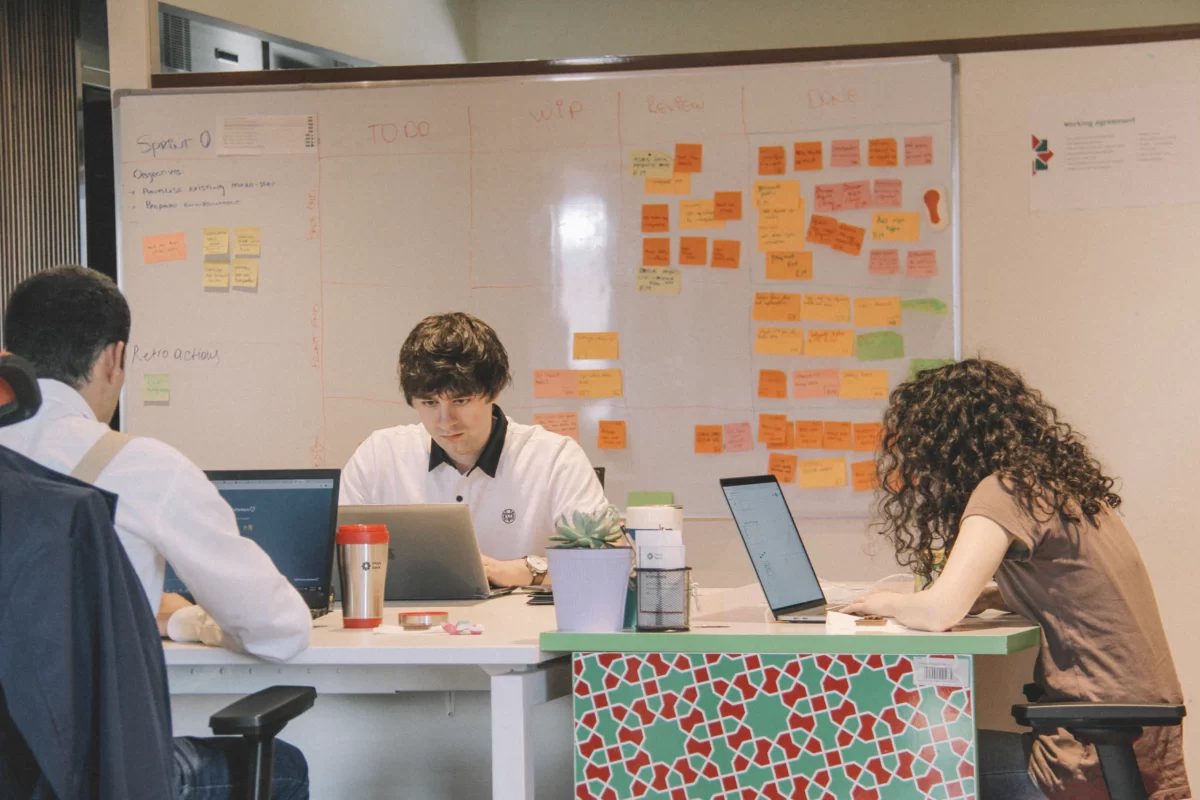 Working from home
Some excellent examples of online memo boards include Trello, Asana, Basecamp and Airtable. Microsoft also offers a Kanban board through Microsoft Planner. The Work OS monday.com is a cloud-based software which also provides helpful project management tools. This is very important for remote employees who are not physically surrounded by their peers and need to track the progress of their assignments.
Benefits of using company memo boards for business organisation
Not only do memo boards improve staff productivity and reduce confusion about scheduling, they can also improve the morale of your team. Setting a clear structure for achieving targets and goals helps your employees feel proud and in control of their work. Building this momentum is a vital aspect of efficient business organisation.
One of our clients came to us seeking help with project management and organising their employees. Since then, they have been using Trello for months and reported that it has transformed their business! So, memo boards are a no-brainer, right?
If you are not sure how to improve your business organisation and project management strategy, reach out to us today for a consultation with one of our friendly and professional management consultants.